Download:
Whitney, desires of submission
Year Of Release:
2022
Country:
France
Genre:
Anal
,
BDSM
,
Big Tits
, Bukkake, Deep Throat, Double Penetration, Feature,
Orgy
, Threesome
Film director:
Herve Bodilis
Studio:
Marc Dorcel
Starring:
Tiffany Leiddi, Whitney Wright, Clara Mia, Carolina Cherry
FROM FANTASY TO REALITY
Sometime after discovering a world of pleasures she had never known existed, Tiffany Leiddi began writing a book to share her experience with the general public. Very fond of this kind of story, readers quickly turned the book into a real bestseller. It wasn't long before a producer decided to acquire the rights to bring it to the screen.
When Whitney and Kristof, the couple chosen to carry the project, contacted Tiffany and Ricky, they tried to explain to them that as it was, the film could never be made. The facts related in the pages of her biography are far too explicit to be filmed as they are. For Ricky, the film will only be successful if Whitney, unfamiliar with Tiffany's experiences, really gets involved in the project. To do so, she will have to follow the same initiatory path of the author.
DISCOVERING NEW PLEASURES
Since the release of her autobiography, Tiffany has totally abandoned her professional activity to devote herself to her new life and all the pleasures and fantasies that are linked to it. Accompanied by Ricky, she regularly goes to a private club to live new experiences. Tonight, the couple has booked a private booth with a special feature. Strangers can watch them making love through a glass window. Since completing her initiation, Tiffany has found that she almost enjoys it more knowing that others are watching. What she didn't know was that today her husband surprised her by asking her to end the evening by having sex with the stranger who was spying on her just moments before. This is one more exciting proposal that she can hardly refuse.
The very next day, Whitney and Kristof realize that Ricky was right. If they don't discover for themselves the universe they have to write their script on, the final result won't be credible. Their decision is made, tonight they will go to "The Night of the Divine Marquis", a very private party reserved for a very discerning audience. At first intimidated by what they discover, the two lovers tell themselves that this world is perhaps not made for them. However, when they meet Carollina Cherry, a regular visitor, Whitney feels reassured and follows her to a quiet corner to get to know one of her "friends" better. In another room, Clara Mia gives herself passionately to two men at the same time.
THE BEGINNING OF A NEW LIFE
Even if they have difficulty to admit it, Whitney and Kristof were very excited by the different scenes they witnessed. On their way home, the couple decided to release all the sexual tension accumulated during this special evening. More used to quiet love making, they had a real trigger which will certainly allow them to better apprehend the work which awaits them.
To make sure they do it right, the couple offers Carollina and her husband to act as their guides and show them that making love with someone else in front of their partner can be a very exciting experience. Now that they have taken the plunge, the two directors feel that they have opened the door to a world they were totally unaware of just a few days earlier. Now, the quest for their own pleasure will allow them to better understand the world in which Tiffany and Ricky live. They will be able to propose a scenario much closer to reality... and to their own fantasies.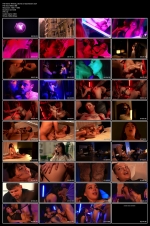 Duration:
02:14:38
Language:
English
File
Quality:
VOD 1080p
Format:
MP4
Video:
AVC at 6,000 kb/s, 1920 x 1080 (1.778) at 30,000 fps
Audio:
AAC at 128 kb/s, 2 channels, 44.1 kHz
Total Size:
5.76 Gb